LAUNCH OF AN ELECTRIC CAR SERVICE FOR RESIDENTS OF COMPLEXE GOUIN-LANGELIER
Tuesday May 21, 2019
Tuesday May 21, 2019
On Thursday, May 16, 2019, Cogir inaugurated the Cogir Auto.
On Thursday, May 16, 2019, the management team of Complexe
Gouin-Langelier, a Cogir Real Estate retirement home, joined Ms. Christine Black, Montreal-North Borough Mayor, Ms. Chantal Rossi, Montreal-North Borough City councillor and residents, for the launch of Cogir Auto, a shared electric automobile service put at the disposal of the home's occupants.

The electric car, an innovative solution, is offered free of charge to residents
In addition to the reduced carbon footprint, residents will enjoy riding in an electric car, combining comfort, peace of mind, quiet driving, good road handling and the maintenance cost savings that come from not having to own a personal vehicle. Not only is the 2019 Chevrolet Bolt fully electric, but many safety features have been added, including an integrated GPS system which follows and locates the vehicle in all its travels and sends real-time mechanical information to the residence, ensuring that the car will always be safe and in working order.
"In our strong desire to excel in the services we offer, it is with great pride that Cogir is putting this shared-service green vehicle at the disposal of the residents, thereby providing them with the opportunity to travel in full independence," says M. Yves Duguay, Vice President Operations, Cogir Real Estate's Private Retirement Homes Division. "The car also has many safety features designed to ensure the safety of users, including three cameras. These discreet cameras have the same utility as that of the black box in aviation. They record information that can be consulted as needed. In short, we are convinced that this new car-sharing service will benefit the well-being our residents on a daily basis.''
The Complexe Gouin-Langelier's Cogir Auto joins a fleet of fifteen cars already in service in Cogir's private retirement homes.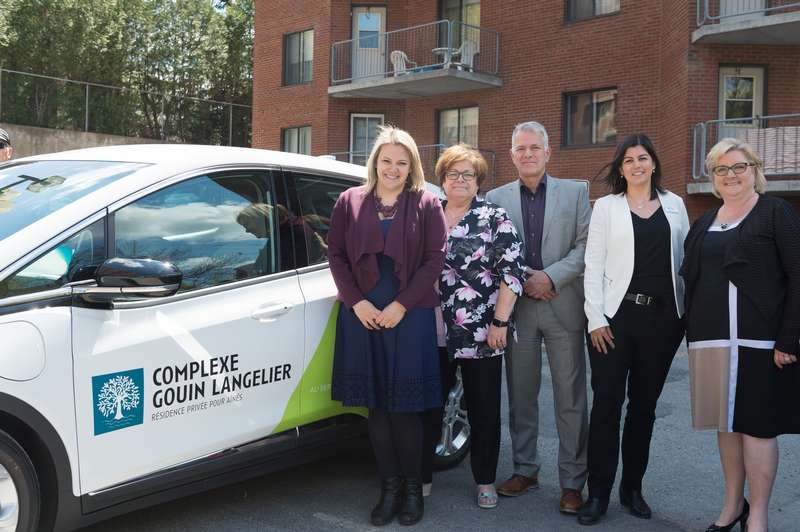 From left to right: Christine Black, Montreal-North Borough Mayor, France Milette, Regional Manager, Cogir Real Estate, Yves Duguay, Vice-President, Cogir Real Estate, Isabelle Therrien, General Manager, Complexe Gouin-Langelier, Chantal Rossi, City councillor.