LAUNCH OF A PARTICIPATIVE COMIC STRIP
Tuesday April 16, 2019
Tuesday April 16, 2019
The participative comic strip themed "La retraite comme vous ne l'avez jamais vue", a project carried out by seniors residing in some of Cogir's retirement homes, was launched on Monday, April 8, 2019.
In recent months, residents from more than 31 of Cogir Real Estate's private retirement homes, working with Alaviva and cartoonist Francis Desharnais, have carried out a participative comic strip project. Mr. Desharnais was awarded the city of Québec's Grand Prix for the best
French-language album published in the Province of Québec. Blending the cartoonist's artwork and reworked photographs, the residents were able to unchain their creative selves and illustrate their thoughts on changes in life and in society. Young people from various backgrounds helped to create these stories. 
When reading this comic strip, you will discover daily life's "then and now" as seen by the seniors. "A digital project such as a comic strip is an innovative endeavour which has helped our residents remain in contact with new trends. From the very first moment, there is enthusiasm shown for participation in this type of initiative. This type of project has allowed them to enhance their pride and their sense of accomplishment," says Cogir Real Estate's Sophie Tremblay, senior regional manager for the company's private retirement home division.
In addition, it was with great pleasure that Cogir took part in the Salon du livre de Québec (the city of Québec's book fair) which took place from April 10 to April 14, granting an interview in the course of a round-table discussion. There are still several events to come. Visit residencescogir.com for more information.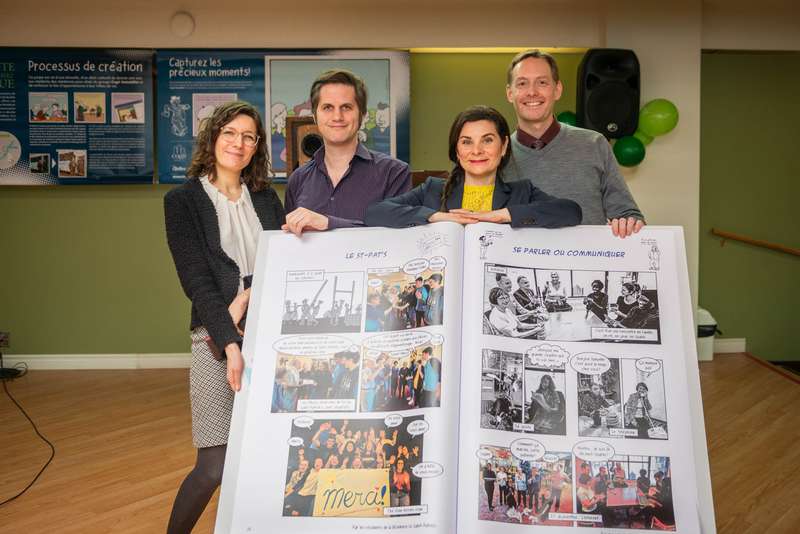 From left to right: Geneviève Provencher-St-Cyr, museum specialist and space designer, partner at Maelström créatif, Francis Desharnais, cartoonist, Andrée Pelletier, designer, partner at Maelström créatif, Philip Horne, Project Management and Leisure Development Coordinator at Cogir Real Estate.