ELECTRIC CAR LAUNCH FOR TENANTS AT MOSTRA LONGUEUIL
Thursday April 4, 2019
Thursday April 4, 2019
On Wednesday, April 3, 2019, Cogir inaugurated the Cogir Auto fully electric
Electric carsharing – an innovative solution that tenants can use free of charge
With the opening of Mostra Longueuil in July 2019, tenants will be able to enjoy the Cogir Auto car-sharing service, which will be available at any time.

"With our strong desire to constantly improve our service, Cogir is very proud to provide tenants with a green carsharing opportunity," explains Mr. Jean-Marc Bélanger, Vice President of the Multiresidential Operations Division for Cogir Real Estate. In addition to minimizing one's ecological footprint, Mostra tenants will have the pleasure of driving an electric car that combines comfort with peace of mind, quiet driving and good road handling while saving on the costs of maintaining a personal vehicle.

The Mostra car service is an addition to Cogir's existing fleet of over twenty electric cars offered at its private retirement homes.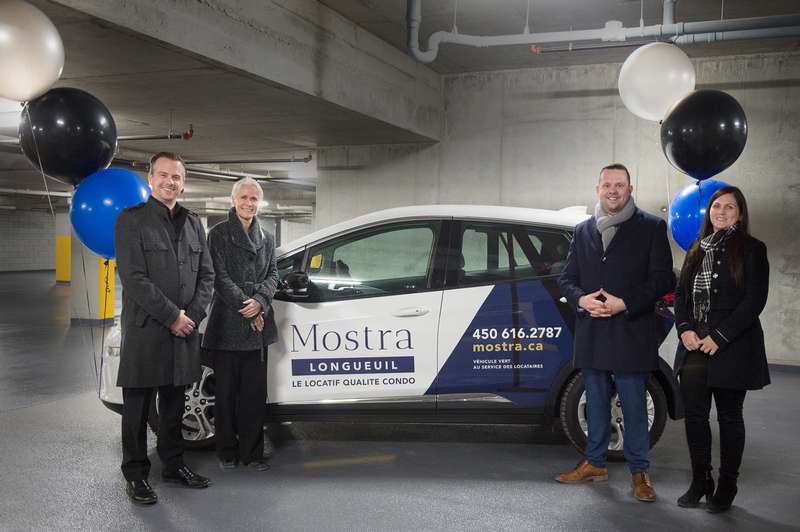 From left to right: Christian Perrotte, Real Estate Manager; Ann Cook, Rental Advisor and Customer Service Coordinator; Jean-Marc Bélanger, Vice President Operations, Multiresidential Division; and Mélanie Chauvette, Regional Manager.